Let Just Because... Flowers, Gifts, & More be your first choice for flowers.
We are committed to offering only the finest floral arrangements and unique gifts, and furniture pieces backed by service that is friendly and prompt. All our customers are important to us. We will always go that extra mile to make your occasion uniquely special.
We are delighted to be serving Montgomery and neighboring counties for all occasions. From birth to the celebration of life and everything in between, we are here to serve you. In addition to fresh flower arrangements and dish gardens, we also offer other gift items.
Prairie Scents are also available at the flower shop. Our all natural soaps, shea butters, lotions, organic teas, local honey and other honey products like Royal jelly and bee pollen are stocked and ready for purchase.
If you are looking for something in particular and don't see it on the floor, please let us know and we will be happy to help you shop for it. We also offer home décor in the store. We have carefully selected products that we think would make wonderful gifts, or that you can enjoy in your own home. We also carry a large supply of house plants, unique containers and sympathy gifts.
We look forward to seeing you soon!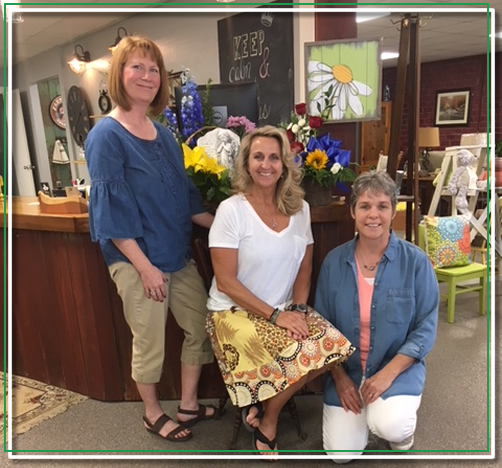 Areas Served
Crawfordsville, Darlington, Ladoga, Linden, New Market, Waveland, Waynetown, Wingate
Can you deliver to a funeral home?
We deliver to local funeral homes daily. Below is a list of the funeral homes that we deliver to.
- Burkhart Funeral Home
- Hunt & Son Funeral Home
- Sanders Funeral Care
- Machledt & Servies Funeral home Waveland
- Hahn - Groeber Funeral home Linden
- Shoemaker Funeral Home Waynetown
- Family and Friends Funeral Care Wingate
If you do not see the funeral home you are looking for, please give us a call at (765) 307-2341, we may be able to accommodate special requests.
Do you deliver to local hospitals?
Yes we do! Here is a list of hospitals that we deliver to locally.
- Franciscan Health Crawfordsville
If you do not see the hospital you are looking for, please give us a call at (765) 307-2341, we may be able to accommodate special requests.
Do you deliver to nursing homes?
Yes, we do. Nothing brightens someone's day like flowers. Here is a list of local nursing homes that we deliver flowers to, daily.
- Ben Hur Home
- Lane House Nursing Care Ctr
- Hickory Creek
- Whitlock Place
- Bickford Memory Care
If you do not see the nursing home you are looking for, please give us a call at (765) 307-2341, we may be able to accommodate special requests.
I tried placing an order, but it didn't go through. What can I do?
Oh no! We apologize for the inconvenience. Please make sure you're using the most recent version of your browser program. If not, you may need to download an update from the software maker's website. If the problem persists, please call us at (765) 307-2341 and we are more than happy to help you over the phone.
How can I pay?
We accept the following payment types: Visa, MasterCard, Discover Network, American Express
What if my chosen flowers aren't available?
Occasionally, substitutions may be necessary to create your bouquet due to the availability of certain flowers in various parts of the country. Care is taken to maintain the style, theme and color scheme of the arrangement, using flowers of equal value. Additionally, the substitution of certain keepsake items may be necessary due to increased demand, especially during major holidays. In single-flower arrangements, such as an all rose bouquet, or orchids, we will make every attempt to match the flower type, but may substitute with another color.
Delivery Policy
U.S. orders must be received before 3:00 p.m on Mondays to Fridays and 10:30 a.m. on Saturdays in the recipient's time zone to assure same-day delivery. Orders received after that time will be delivered the following business day. We will do our best to accommodate deliveries at specific times of day, but we cannot guarantee it. We are unable to make deliveries on Sunday. Deliveries requested will be delivered the following business day.
Delivery of orders to rural route addresses or cemeteries cannot be guaranteed.
Cancellations
Orders for Products may be canceled within twenty-four (24) hours after they are placed, except for orders for Same Day Delivery or Next Day Delivery, which may not be canceled.
Satisfaction Commitment and Return Policy
In the unlikely event you are unhappy with your product(s), please notify us within 24 hours of delivery and you may return the arrangement for a refund, request an exchange of products, or receive store credit.
Refunds or credits given for orders that have already been delivered or have had an attempted delivery will only be for the partial or full cost of the arrangement(s), less any service, handling, or restocking fees.
Specialty Services